It is not such a difficult task to clean resin molds after use. You need patience in cleaning resin molds in good shape and ready for subsequent use. From this point on, they will be ready at your convenience so you can use them repeatedly. Doing so saves your money on purchasing new resin molds that cost hefty and helps protect the environment. I hope this article has helped you learn how to clean resin molds.
How to cleam resin molds?
Here we recommend several simple, quick, effective ways to clean resin molds. You can use whichever method to make the mold look new.
How to Clean Molds Before Use
To make your resin artwork look perfect (no blemishes like dust or residue), it is imperative to use a clean mold for each project. Cleaning resin molds and silicone molds before using them is very necessary.
1.Use soft brush
We recommend cleaning with a makeup brush, computer cleaning brush, or any other soft brush. Gently wipe away dust and dry residue with a brush. Soft brushes are suitable for resin molds. They won't scratch the surface. In life, it's easy to get. You don't need to buy a new brush because you can use any soft brush you can find anywhere.
2.Use warm soapy water
If you have cleaned it before but are worried that there may be dust in the resin mold that you can't see, the best way is to use warm soapy water to clean it again. The effect of warm soapy water can make the surface of the silicone mold smooth, flexible, and easy to remove. Any resin previously stuck to the mold prevents dust from falling on the mold. (NOTE: Do not use hot water, only lukewarm water.)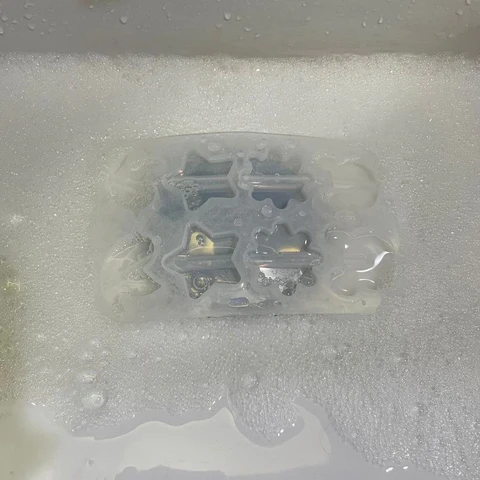 Fill a pot with warm soapy water and place the mold to soak for about 15 minutes or so for a while.
After 15 minutes, rinse the molds with soap suds, place them on a clean cloth and let them air dry. If you dry them with a cloth, the fibers from the cloth may stick to the mold, and you can cover the adsorbed surface with a roll of kitchen paper.
3.Use adhesive tape
Apply the sticky side of the adhesive tape to the resin mold surface, and it will stick and remove any dust, glitter, or residue from the mold surface. It's readily available and can clean resin molds without damaging them. Great for cleaning dust, glitter, and non-stubborn stains.
4.How to Clean Molds with Tacky Resin
If your mold uses a sticky resin that won't cure, that's in trouble. Cleaning all that sticky resin can be quite a hassle if you've ever been through it. Many people may give up and buy new molds after trying to clean up to no avail. But don't worry. We suggest you try the following to make the resin easy to remove.
5.Use freezer
We recommend wrapping the silicone mold in a separate airtight plastic bag and placing it in the freezer to prevent it from contaminating the food. 10-15 minutes will help the uncured resin come out without damaging the mold.
Pros ✔️
Our most favorite method.
Easy cleaning.
Uncured resin when frozen can be removed easily from the mold.
It won't damage the silicone mold.
Cons ❌
Takes a few hours.
Sometimes the resin wont freeze easily
6.Use alcohol wipes
Another effective cleaning method we've found is alcohol wipes. They are also great for cleaning resin and silicone molds. The premise is that you must scrape most of the resin first. Then wipe your mold with alcohol wipes, repeating the process with fresh wipes in the process, until your mold is clean. Make sure the corners are also cleaned.
Pros✔️
Easily available and won't hurt the molds at all.
Cons❌
It might take more effort and more time then other ways.
Use acetone
The third method is to spray some acetone on the resin mold. Let them sit to dissolve the resin for a while, then wipe it clean with a soft cloth soaked in acetone. This solvent breaks down the resin and helps you remove it quickly.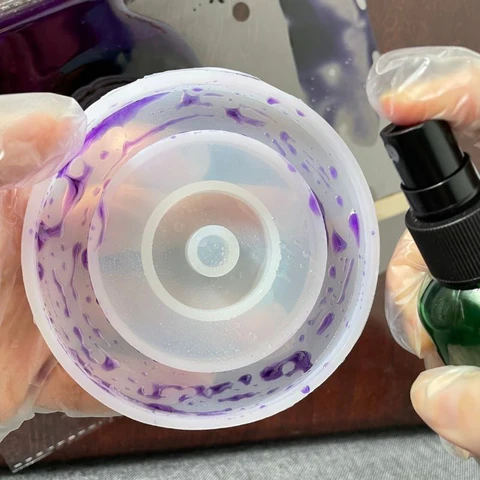 Pros✔️
It is highly effective and easy to clean tacky resin. You can always trust the solvent.
Cons❌
Not easily available comparing to other methods.
It's a chemical anyway so make sure you wear gloves and follow the product instructions to take other necessary safety measures.
How to Clean Resin Molds After Resin Is Cured?
Once the resin has cured, it will be easier to clean than sticky resin.
Warm soapy water, alcohol wipes, and acetone dissolving are our 3 favorite ways to clean resin molds quickly and easily, and they always work.
Tips 💡
Always clean the silicone mold before and after use, and keep the mold clean for subsequent use.
Store the mold in a clean plastic bag and seal it after use and cleaning.
Keep all types of silicone molds away from direct sunlight.
Never stack silicone molds together.
Conclusion
Due to the unique resin/silicone mold material, proper maintenance and storage are required to keep the resin mold and resin silicone mold in good shape to prolong their service life.
Those, as mentioned earlier, 6 great ways to keep your resin molds clean so you don't need to replace them often. Let's make the most of our favorite resin molds to create the perfect artwork!